— Rediscovering lapis specularis, an almost forgotten material from the age of the romans meets contemporary design.
The project "Dark Ages" by Davide G. Aquini has been introduced during the 5 Vie fuorisalone in Milan 4-9 April 2017 – thanks to Parco Regionale della Vena del Gesso Romagnola, Saint-Gobain PPC Italia and Apuana Corporate.
This "rediscovered" material called lapis specularis, a transparent gypsum easy to cut even with a knife, was used by the ancient Romans for windows and greenhouses, and it has been forgotten, or confused with glass, during the Middle Ages.
The collection "Dark Ages" aims to provide food for thought on our shared tradition. The design is a balance between the regular shapes of antiquity and a "barbaric" finish, some sort of temporal path looking for an aesthetic dialogue between distant historical periods, where the focus is rediscovering an archaic material.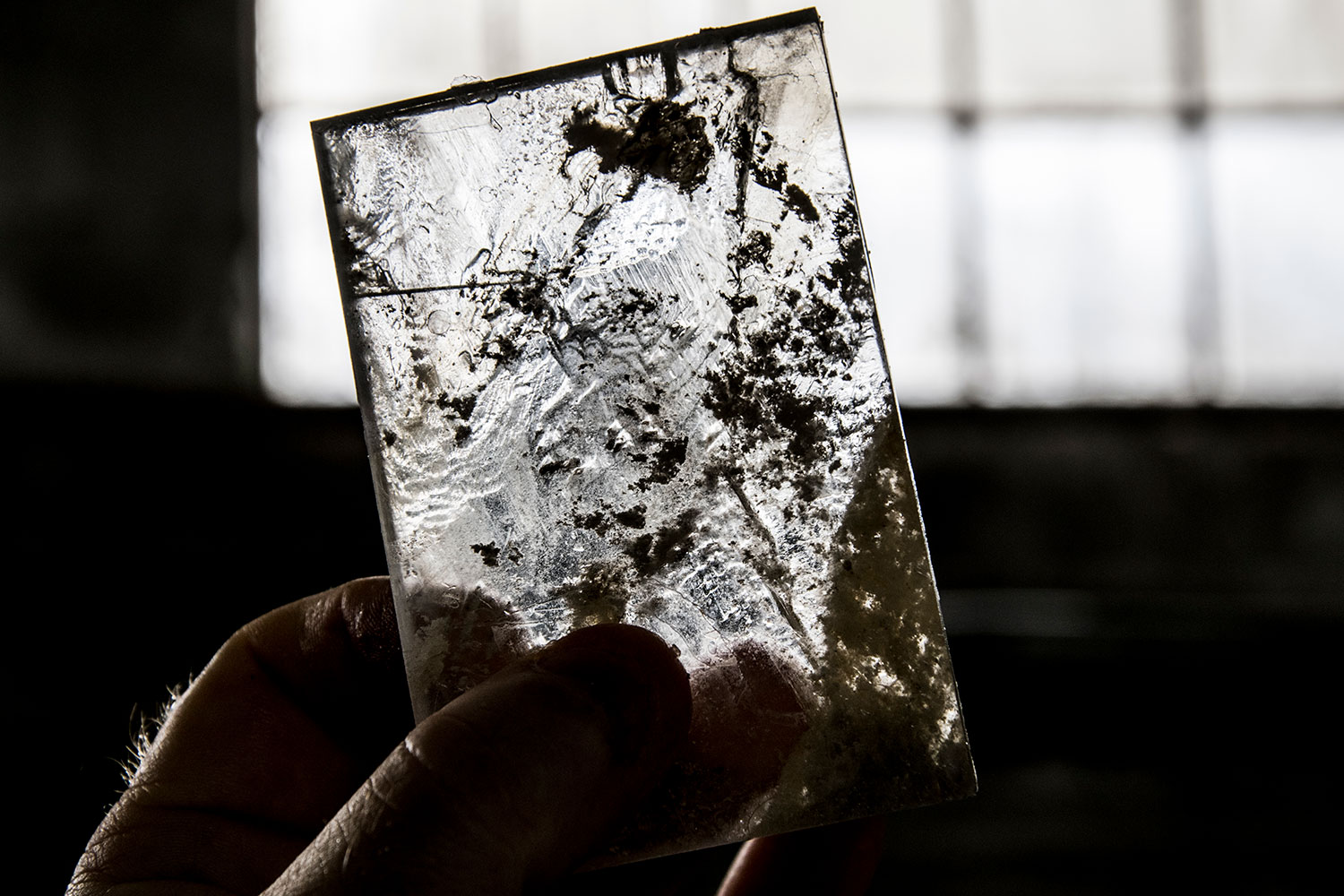 01_ Dark Ages
— Dark ages is the main project that gives its name to the entire collection in which lapis specularis is the protagonist. It consists of a series of side tables with the top made of large lapis specularis flakes, immersed in a black resinous material, producing a visual effect similar to a barbaric palladiana or an ancient and consumed marble floor. The bituminous black resin accentuates the sharp and irregular shape of the flakes, highlighting the brightness and transparency of the lapis specularis. In fact lapis specularis was a substitute for glass up until the Middle Ages.
This sort of mosaic allows light to pass through the semi-transparent areas, like a sort of gothic stained glass window, while the metal support is strictly rationalist and geometric, with a global effect that counteracts and balances the archaic and barbarian appearance of the top. The result is a sharp and almost mysterious object, indecipherable in its timelessness primitive craftsmanship that blends the minimalist contemporary design with a forgotten material from the past.
02_ Algidi
— Algidi vases are hand made on a lathe without mold in Nove (Italy) by Luigi Bertolin. The rough appearance is simply obtained with a single baking of the ceramic traditionally called "biscotto".
Thin slabs of lapis specularis are inserted in the vases, strengthening their primitive finishing. The geometric and classicist design cleverly contradicts the archaic look, generating a perfectly balanced and timeless result. Algidi are like modern canopic jars, a vaguely alien urns.
In this collection lapis specularis expresses its decorative value like a brand new precious stone that looks similar to ice, as translucent as quartz, as cold as glass and as iridescent as mother-of-pearl.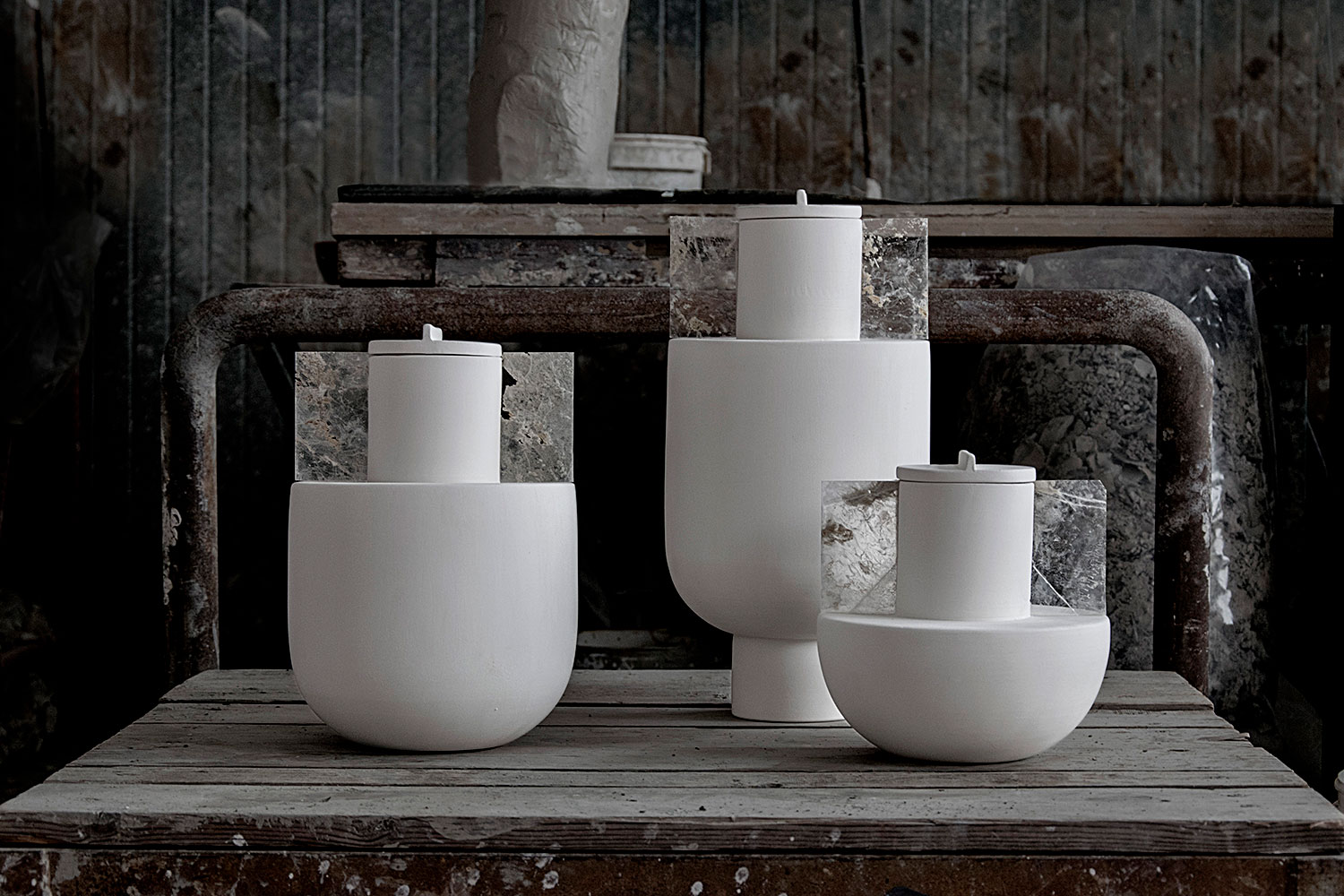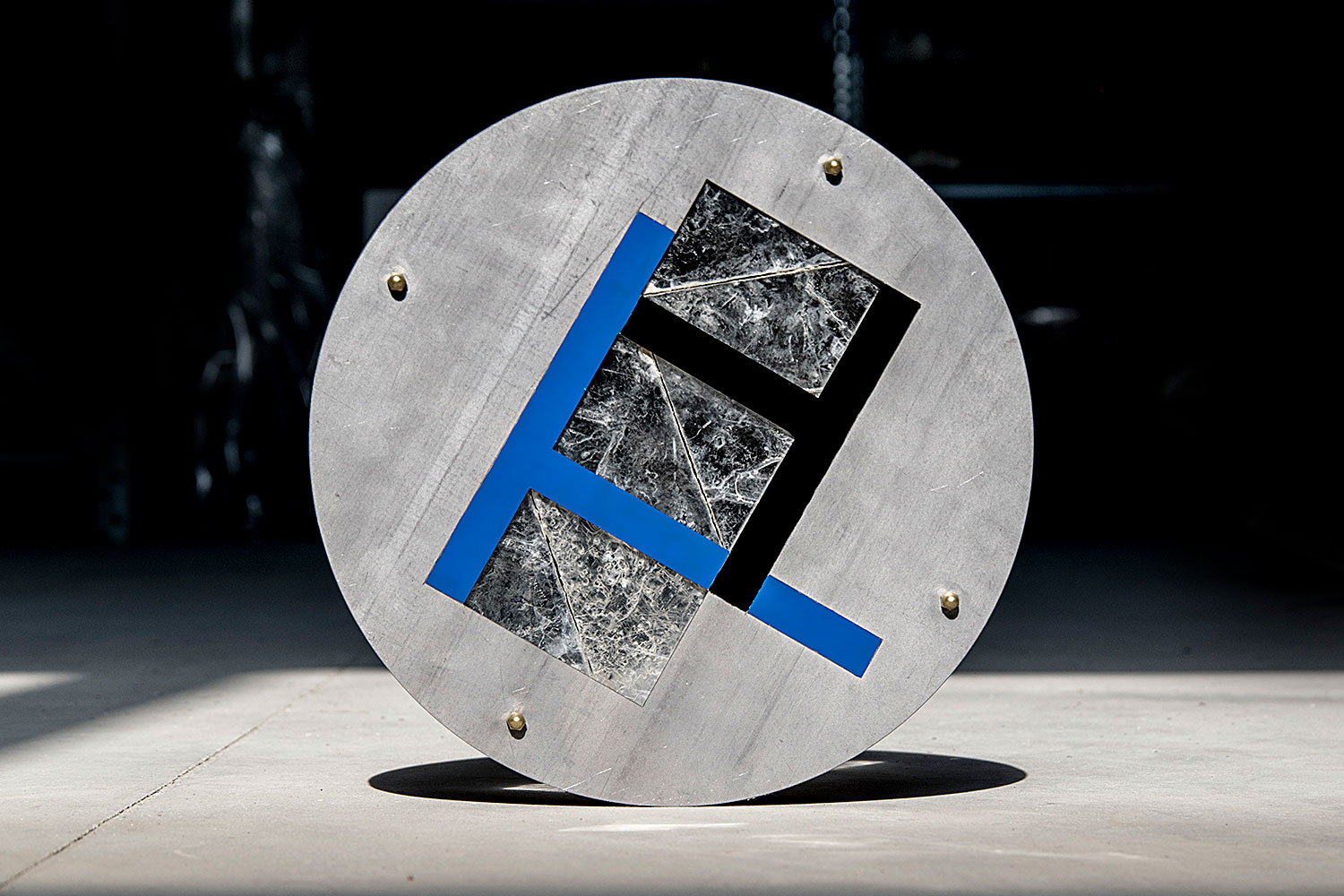 03_ Spaziali
— Spaziali is the third project dedicated to the lapis specularis. Spaziali is a series of decorative plates which contain this precious material in a futuristic object, with the aesthetic value close to a contemporary piece of jewelery.
The thin and rough slabs of lapis specularis diffuse light through regular and rhythmic openings in the iron, as in ancient Rome when they were fixed in window frames and greenhouses. The decoration in enamel, clearly constructivist, adds color and refinement.